Scalper is a system with spectral analysis for entries with moving averages multi time frames filters.  It can operate in two modes as COT Scalper or Grid. System has advanced money management settings as capital protection and exposure protection which are all described on this page.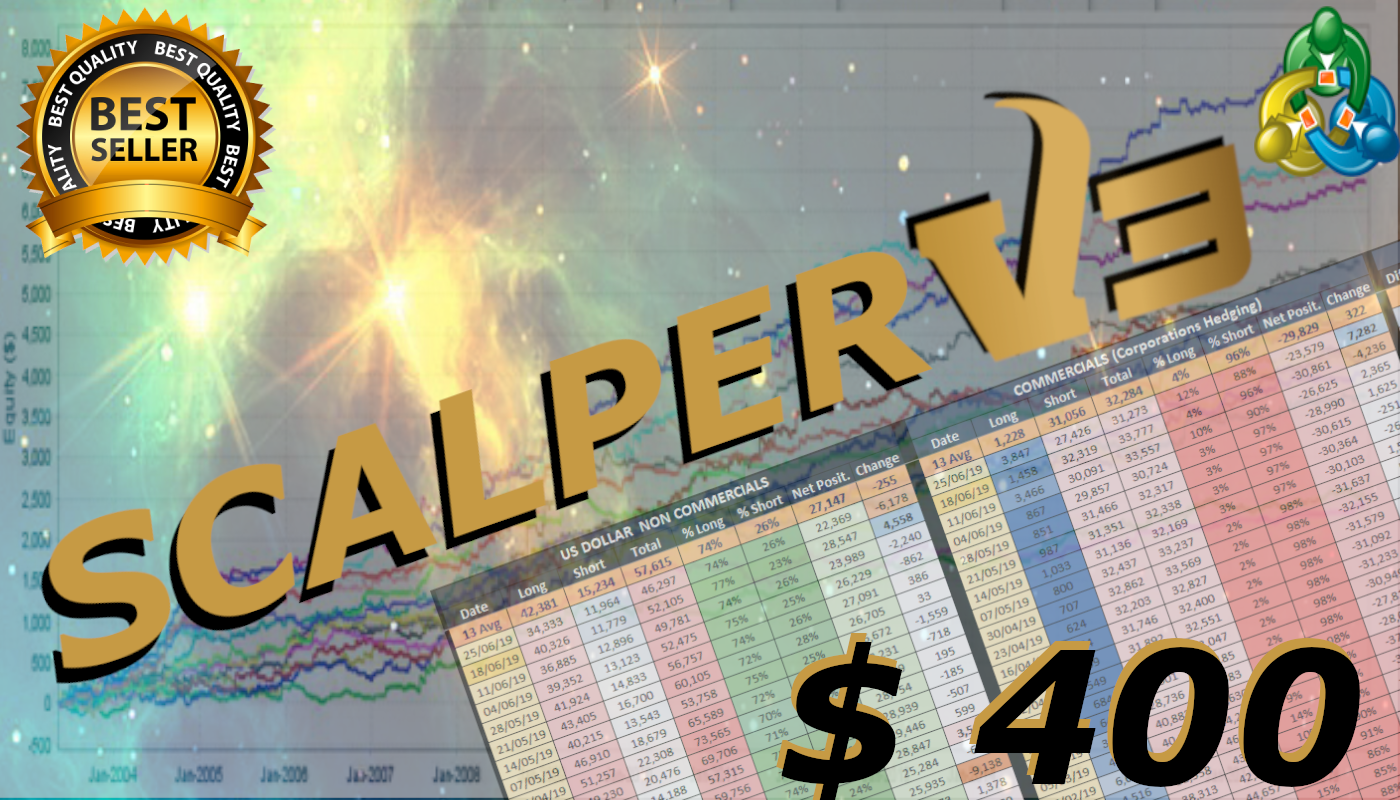 System is based on analyzing multi  -time frame Support and Resistance zones next to confluences of RSI and Stochastic indicators to enter the trades. Entries can be filtered with up to 5 moving averages.  Flexible volatility formula allow us to use one settings for all pairs as its automatically reset the  targets, stop losses and the levels for entries for each fx pair. The unique formula for this calculations is based on the leverages and market cycles. It is not important to understand exactly in details how is this calculated, but what is important to know is that we use this calculations instead of standard pips to achieve flexible settings for all pairs.
COT – BANKS FOLLOWING MODE
COT mode is our favorite trading mode. Basically we are watching the commitments of traders order flow and setting the system with the same trade sentiment as the banks have. We are using our ultimate excel where we update the data manually every week. Knowing the banks exposure to the longs/shorts and their % change in the total net positions is the key. Based on this data we are building the portfolio from majors or cross pairs  and re-setting our scalpers.
This method requires a bit advanced understanding of the market makers order flow and setting the portfolio time time. Mostly once per 3 months.  We are updating the  portfolio for all Scalper owners in the telegram channel dedicated for this EA. So you don't have to worry about being alone in this.
Set and Forget Grid mode does not require any settings or optimizations. It's running non stop and on selected portfolio of pairs. In this mode the EA is using the RSI and Stochastic with trend filters for entries This method require higher capital for the trading or cent accounts for which are offered by couple brokers we recommend this one.
Watch the video where is described all the settings of the expert advisor and see how it all works.
Scalper  is  a part of the main FX Hunter Wealth portfolio
SHORTS/ LONGS  TRADING – true mans active, false inactive. This settings is used only for COT mode when we follow the banks sentiment.
Volume – for setting the lot size
Lot exponent – for the grid exponent calculation
Step leverage – distance between orders when grid is active
Profit target leverage – Profit target (default 500 is 15 pips for EURUSD)
Stop loss leverage – value for the stop loss
4 moving averages to filter entries to the trending markets.
Each EMA can works on the independent time frame
Each EMA can works on the independent  period
Option to deactivate all filters or use only some of them.
Indicators Entry/Nonstop Trading – true = RSI and Stochastic entries.

Indicators Entry/Nonstop Trading – False EA is opening position after position.
Indicators entries are based on the confluences of the Stochastic and RSI. We have done all tests and found the most optimal settings. Here don't change anything. Except:
 Stoch Time frame  1 minute = more entries
 Stoch Time frame  5 minute = less  entries more accurate
Same Logic is applied for RSI settings. If changing change both to same TF.
Equity Protection – set value is in the $. If this value is reached EA will close all the trades and stop the trading.
Exposure protection – value is in $. If the floating PL is higher than this value EA will not open new trades on the pairs where is not trading at the moment, until the floating PL will drop under the set value.
Monday Trading Start time –  value is time (hour) when EA will start trade on Monday after market open. We use distance from market open to avoid be trapped in unexpected market crashes after weekend events.
Friday Trading Stop time – hour when the EA will stop trading and will be closing profitable sequence of trades in the pips as set on the Closing take profit settings
Closing Take Profit – pips for closing the positions when the button is OFF and for Friday closing time.